Garage Italia Customs is about everything Italians love: cars, food and design.


Three renowned personalities in their fields: Lapo Elkann, Michele de Lucchi and Carlo Cracco created a space which is as attractive for architects as it is for food and car lovers.
Garage Italia Customs is a cultural space with an area of 1,700 square metres where you can experience some of the most traditional passions of the city. Located in Piazza Accursio, this corner is a symbol of post-war industrial renaissance: an Agip station planned by Enrico Mattei, father of the Italian economic miracle, created by the architect Mario Bacciocchi in 1952.
With an aerodynamic shape "Streamline style" emphasized by an overhanging surround, it is located in the junction of two streets which connected the motorway and the lakes, and which was in fact one of the first motorways in the world.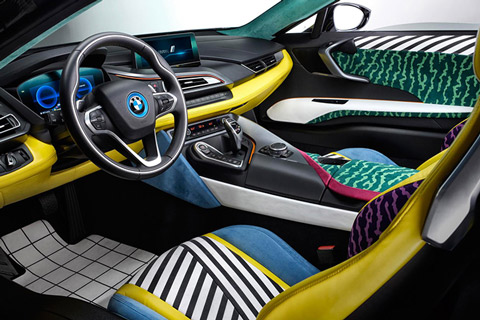 The restoration project, which had faded into oblivion for more than 20 years, was performed by the Italian designer Michele De Lucchi (winner of the award Compasso d'Oro as the "father "of the Tolomeo lamp by Artemide, among other achievements), the renowned chef Carlo Cracco, elaborated the menu, and Lapo Elkann with his personal and contemporary interpretation of tradition imposed by his grandfather Gianni Agnelli, founder of FIAT.
It was inaugurated in 2017 and the access unavoidably makes you raise your eyes towards a ceiling with a sort of "Cloud" with more than 1,000 car models. On the ground floor there is a bar with a counter painted in "Garage Italia red", a patented and personalized lacquer tone.
The staff wears Sparco racing suits in shades of blue in the sales floor and red in the bar. What you cannot be missed is a corner for merchandising and car parts signed by famous names in motor racing.
The centre is a library with materials which present a myriad of colours for car body works, upholstery and accessories to personalize cars, boats or planes. This allows you to assemble a car as if it was a tailor-made suit, honouring the brand, history and mechanic heritage.
But above all, Garage Italia is about an experience in which you can experience a moment in a Ferrari simulator whose upholstery evoke the first models of the brand, feel the sound of the 12-cylinder ignition, or even if you need to use the toilet, you will notice the details of the Riva yachts in a vintage version for ladies and a contemporary one for gentlemen.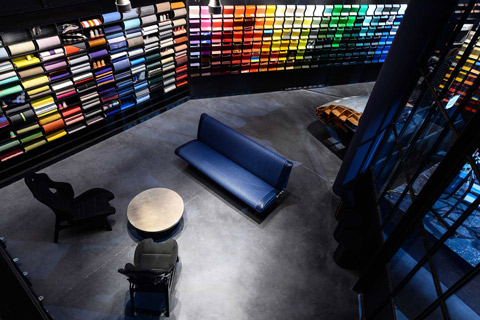 The restaurant on the first floor has large windows from side to side and also on its ceiling…. a Formula 1 circuit. In the middle, there is a Ferrari 250 GTO surrounded by seats specially designed by Cassina with colours and symbols from the world of car races, equipped with cell phone and laptop chargers. The suspended luminaires which hang from the ceiling were made with mufflers.
The restaurant is managed by multi-award winner Chef Michelin Carlo Cracco and run by the young chef Gabriele Faggionato. The dishes are called after race circuits or engine parts. You can order a Millemiglia, Maranello, an Ayrton Sena or for example the Tortellini Enzo Ferrari.
In the terrace, furniture by Unopiú … and a customized small plane.
© Fuorisalone.it — All rights reserved.