This year it was strongly focusing on three main subject areas: Maison, Objet, and Influence.
The most awaited fair taking place in January, Maison & Objet, a fair dedicated to design and interior decoration held from18th to 22nd January 2019 in Paris, has just finished.
With its 3,000 brands and 90,000 visitors it is one of the most beloved events of this sector. Design, furniture, accessories, decoration objects, fabrics, tableware and much more: an unmissable date for experts and home decor, projects and ideas enthusiasts.
This year it was strongly focusing on three main subject areas. The first was Maison, that explored the house and its potentially wide range of interior decoration. The second, Objet, focused on the product, while Influences highlighted the new market trends.
We selected some that best represent the M&O 2019 TRENDS, focusing in particular on the Italian talents and brands exhibited:
Matteo Brioni
At the Paris fair Matteo Brioni proposed the floor Terraplus, a mixture of unfired earth with mineral binders and epoxy resin allowing to achieve a better resistance to abrasion and water without losing permeability. Unfired earth surfaces were showcased within the project FUGA by Studio Irvine, that creates new compounds by inserting rigid elements in the brand's surfaces. The collection features a rich palette of colours for architecture made up of 14 clay colours, creating ad hoc floors for every situation. www.matteobrioni.com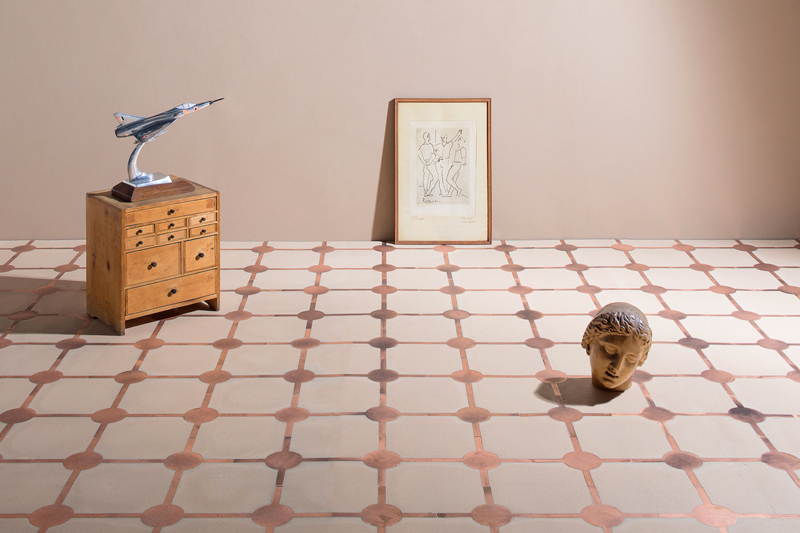 Fendi Casa
Fendi Casa presents a new collection with a romantic flair. Inspired by 20th-century architecture, Loveseat Brigitte is a jewel-armchair with a touch of nostalgia for 1960s and 1970s patterns reinterpreted in a contemporary way. A steel structure rich in metal ware, galvanised with the same bronze shadow or gun metal finishing or the new Palladio. A perfect mix of fashion and design. www.fendi.com/it/casa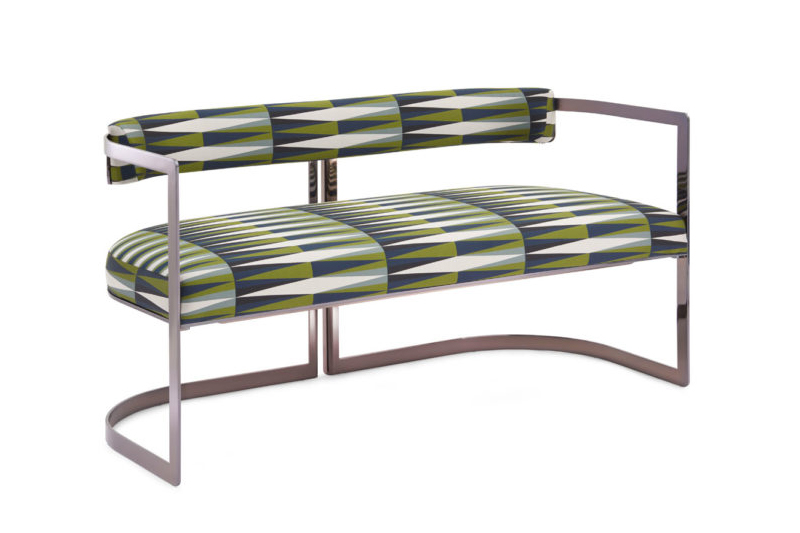 Bitossi Home
The Tuscany-based brand of tableware showcased its new collections marked by an eccentric style, creating a language that produces eclectic collections: Bel Paese and Lettering. Designed by Sam Baron, Bel Paese recalls the daily habit of dining proposing on plates and accessories the patterns of the old fruit wrapping paper. The collection Lettering is composed by 26 small round or rectangular plates, an unusual way to customise the table according to its guests. www.bitossihome.it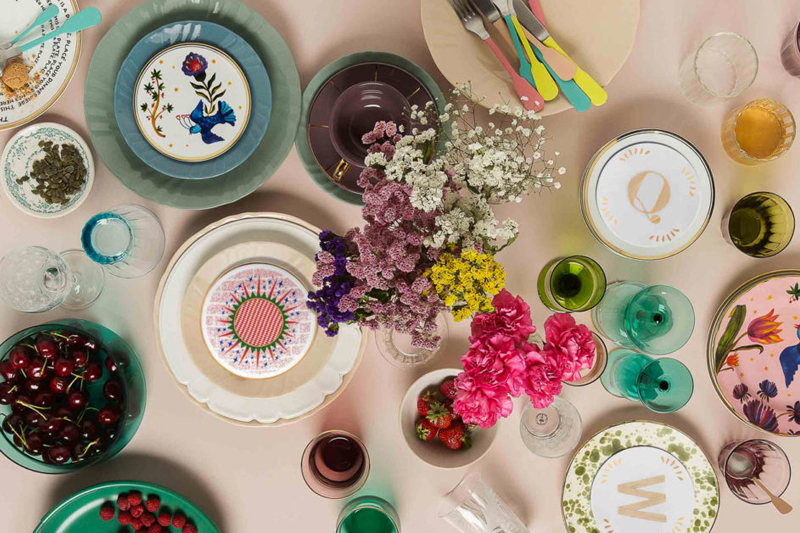 Gervasoni
The fine matching of colours characterising fabrics and special trimmings defines the unique value and versatility of Gervasoniproducts and suggests new ways to interpret contemporary living in a more and more cosmopolitan and refined way. Among the products showcased by Gervasoniat the Paris fair is Carve, that can be seen as a real sculpture rather than just a seat; a hand-carved, mahogany chair with ebony finishing designed by Paola Navone. www.gervasoni1882.it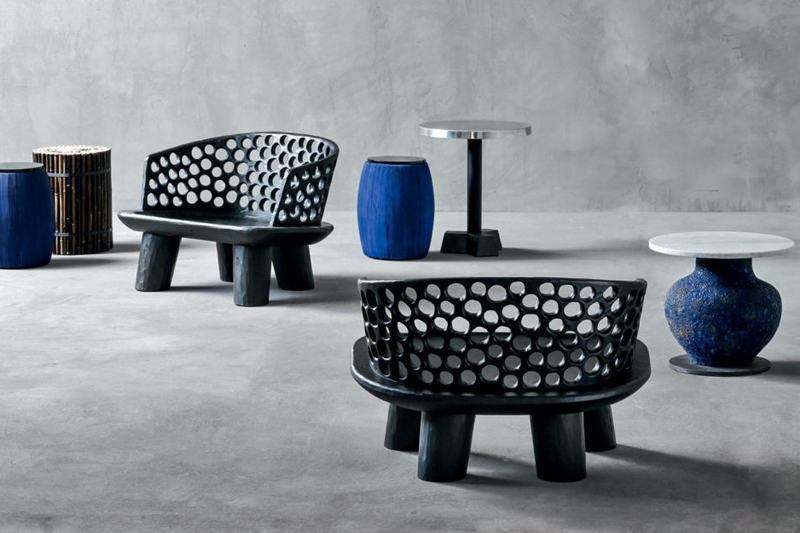 cc-tapis
The new project Envolvée signed by Cristina Celestinofor cc-tapis is one of the news displayed at the fair by the Italian brand, drawing inspiration from one of the most delicate existing natural architectures: butterflies' wings. If observed by microscope, their beauty is so sophisticated that every description is worthless. They are evanescent structures characterised by iridescent, hypnotic and wonderful scale. The wings of moths seem to be painted like moving artworks. Taking a closer look, the elegance of the composition almost gains the texture of a fabric. The decorative pattern is revealed by alternating colour compositions applied on different fabric thicknesses, from wool to linen. A rhythm that turns into a full, vibrant texture playing with the textile differences and with the various heights of the materials employed. www.cc-tapis.com
Pedrali
Pedrali, Italian company producing office and public spaces furniture with a contemporary design approach, in the stand set up by Milan-based studio Calvi Brambilla recreated a theatre-like mood to showcase its latest products. Among them the most outstanding is Boxie, a wheeled container designed by Claudio Dondoli and Marco Pocci. Designed to take different shapes based on the combination of its elements, its main selling points are lightness and versatility. www.pedrali.it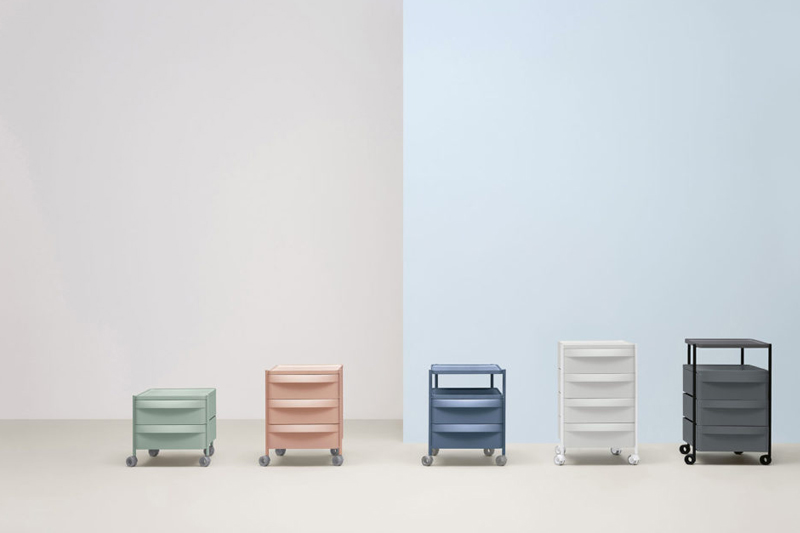 Elena Salmistraro
The new line of mirrors and couches is signed by Houtique, Spanish brand made famous by the vibrant colours of the fringes of Masquespacio: postmodern shapes and anthropomorphic references for a collection that seems to be coming from a sci-fi movie but at the same time has something sensual and calming. Again, the main inspirations come from vermicular traditions and deliver an ironic idea of luxury, a sexy dimension that does not take itself too seriusly. www.elenasalmistraro.com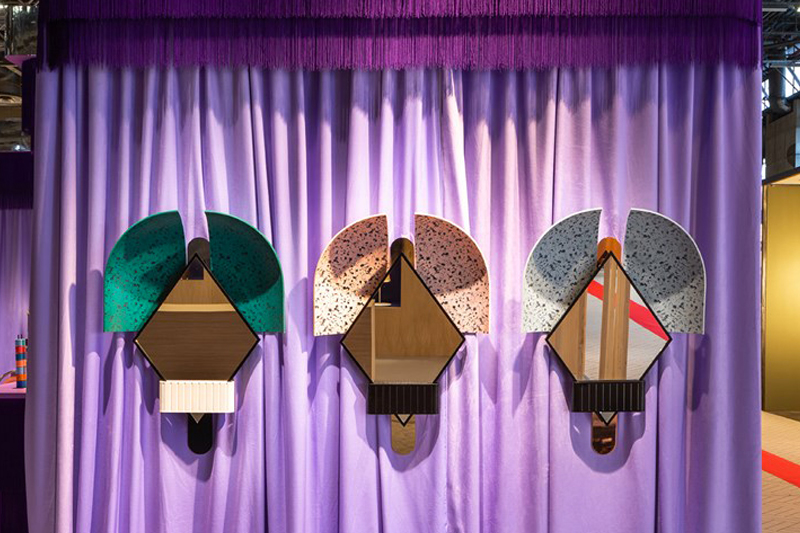 Missoni Home
It shows textile and furniture shapes and solutions for indoor and outdoor furnishing. The collection's leading characters are its bright and compact fabrics in which natural themes alternate with iconic signs with balanced series of lights, shades and fadeouts. Nature takes a leading role in the Missoni 2019 collection: Panorama, Alps, Stripes Mosaic, Dancing Flower, Paper Flowers, Glass Fantasy, Winter Garden, Poppies Outdoor and Passion Flower Outdoor are included un the collection. www.missonihome.com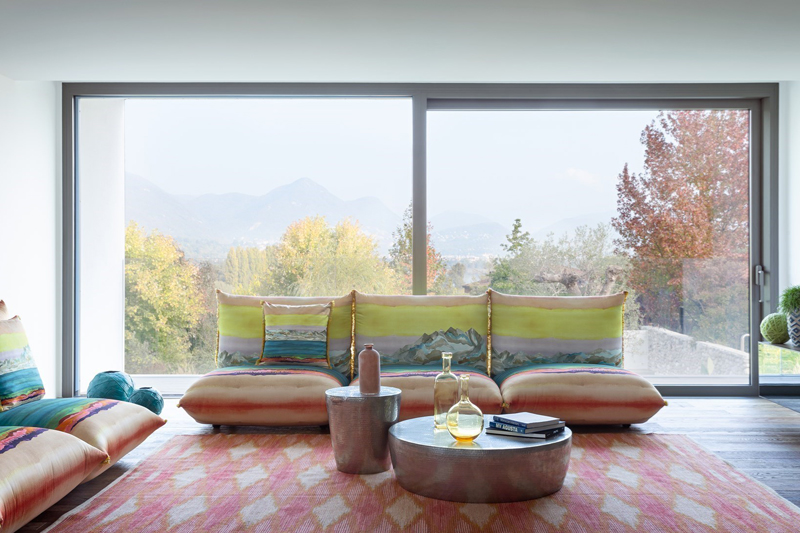 © Fuorisalone.it — All rights reserved.