At Fuorisalone 2021, Design Italy, a brand new digital flagship of contemporary high end Made in Italy (www.designitaly.com), will also be present, with a strong focus on the world of eco-sustainability and circularity.
Design Italy proposes an experiential path through which to discover the projects behind the realization of extraordinary collections and objects of eco-sustainable design, leveraging on innovation of production processes and the use of natural materials.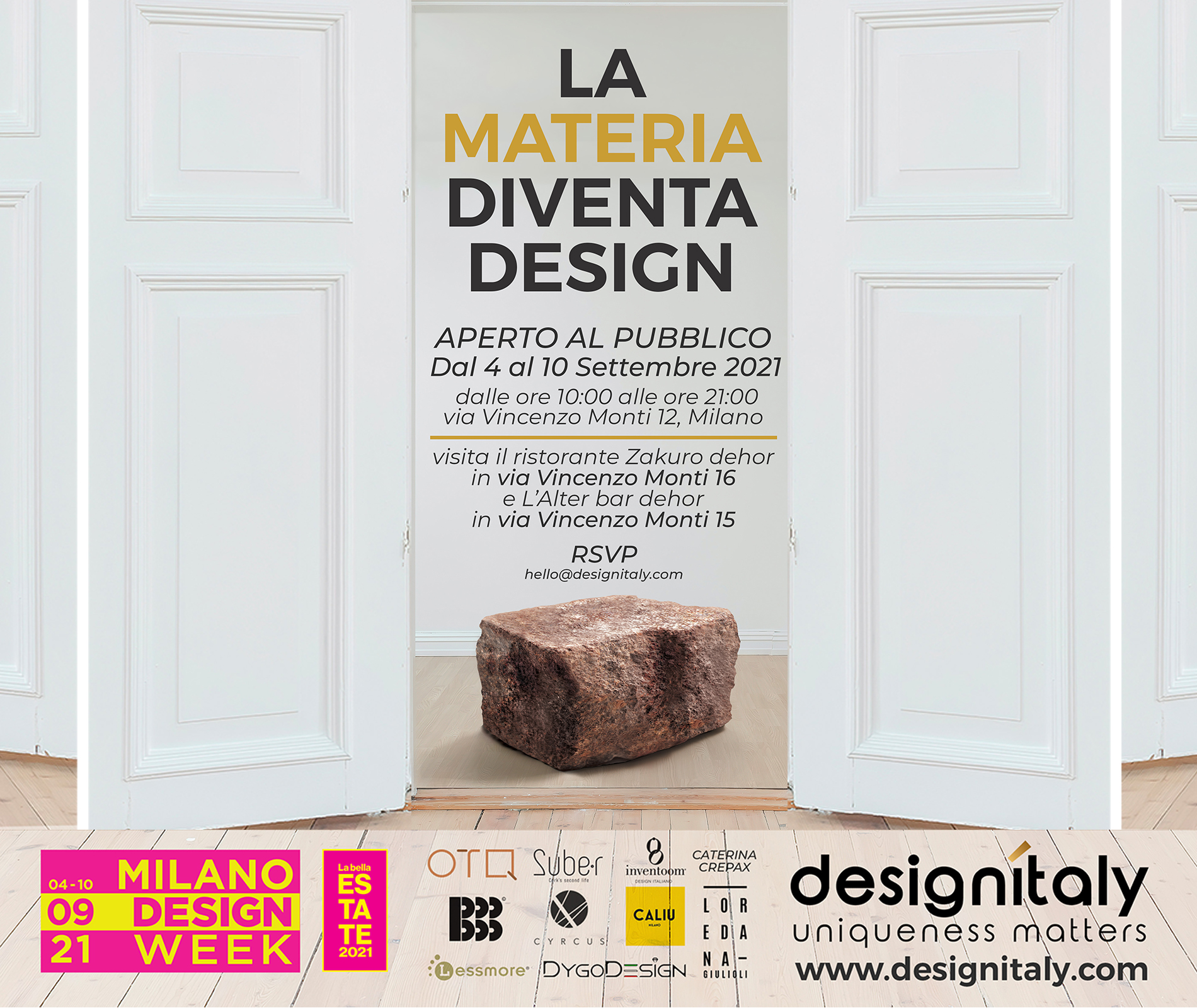 The program "When material meets design", open to the public, takes us through innovative design and production choices related to cork, rice husk, corn, aluminum, cardboard, paper, silk and wool.

Six manufacturing companies and designer partners on display, plus 6 different workshops to live these choices with the designers- are part of the program, of which the Fuorisalone anticipates the virtual tour in the showroom: https://tour3d.dimensione3.com/design-italy-inside-2021 .

Among them some of the productions are new and exclusive worldwide, made for the Fuorisalone, such as:

- Gio Ponti's 940 chairs in the new eco-sustainable version, built in Resysta, a material made from rice seed husk, produced by BBB Italia.
- Cyrcus Design will present the most recent project by Denis Santachiara: an aluminium chair, portable and assembled with a single screw, thanks to the nesting technique.
- Dygodesign will exhibit their sculptural vases, produced with 3d printing, in phosphorescent plastic material derived from corn.
- Suber: used corks transformed into extraordinary design objects with high social content.


The program is an immersion distributed between the Showroom in Via Vincenzo Monti 12 in Milan and the two outdoor exhibitions nearby at the dehors of L'Alter Bar at number 15 and Zakuro at number 16.

Here the virtual tour of the two dehors:
https://tour3d.dimensione3.com
https://tour3d.dimensione3.com

The entire program can be viewed at this link:
https://designitaly.com

To register for one of the days use:
https://www.eventbrite.it
© Fuorisalone.it — All rights reserved.