The second edition of Swiss Design Map Milano lists all the Swiss activities during the design week.
Events like the Salone del Mobile and the Fuorisalone have long been an important showcase for Swiss design schools, firms and young designers. To increase their collective impact and visibility, the second edition of Swiss Design Map lists all the Swiss activities during the design week. This initiative promoted by the Consulate General of Switzerland in Milan allows visitors to take in the creativity, the innovation and the high quality of contemporary Swiss design at a glance.
The graphic design studio from Geneva AMI presents:
"How to represent design in one picture? Our visual for the Swiss Design Map Milano is a simple composition of three shapes. We tried to evoke design: a complex mix between aesthetic and functionality. Each shape plays a role towards the two others with one common goal: balance."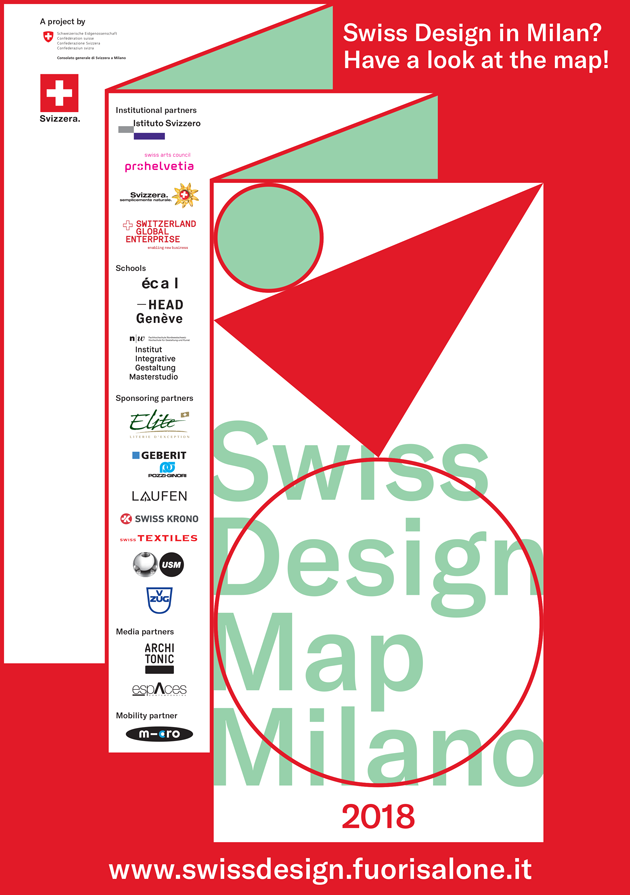 2018 news
– Swiss Design District
The first ever collective presence of Swiss companies stands for the broad interest in Swiss Design during this years' Fuorisalone. Thirteen exhibitors from all sectors showcase their trends on more than 400m² collective space in Via Tortona 31 Milan.
The District initiative is coordinated by Swiss Business Hub Italy and Switzerland Global Enterprise. From 17-22 April following exhibitors show their Swiss Design products and services in the area of Opificio 31:

Arit Schweizer Kissen Manufaktur - Facebook
Art Museums of Switzerland - Facebook
Andermatt Swiss Alps
arwa
dade design concrete works - Facebook
HEAD – Genève - Facebook
MajorDomo - Facebook
Micro Mobility Systems AG - Facebook
Nahtlos GmbH
Pendularis AG
Ribag Licht AG - Facebook
Switzerland Investment Promotion
USM - Facebook
– SWISS ❤ DESIGN, a selection of young innovative studios
For the first time at Palazzo Litta and within the context of Fuorisalone, the Swiss Arts Council Pro Helvetia is pleased to introduce SWISS ❤ DESIGN. The exhibition showcases Diiis design studio, Florian Hauswirth, Kollektiv vier, Alain Schibli and schoenstaub, a selection of young and innovative studios that individually demonstrate Swiss design at its best. With a focus on high quality, functionality, innovation, and forward thinking approach, SWISS ❤ DESIGN features brands that are the testimony of what Switzerland is famed for.
www.prohelvetia.ch
Facebook
© Fuorisalone.it — All rights reserved.
Consolato generale di Svizzera a Milano
Via Palestro 2 - 20121 Milano